Greg S. Reid is an American filmmaker, motivational keynote speaker[1] and best-selling author, best known for his book series titled Think and Grow Rich and Think and Grow Rich (Series) which was authorized by The Napoleon Hill Foundation.[2] He has been published in over 78 books, 32 best sellers, five motion pictures, and featured in many magazines.[3] Reid is also the creator and producer on the International acclaimed films Pass It On, and Three Feet From Gold.[4] His unique style has made him a highly sought-after keynote speaker for corporations, universities and charitable organizations.[5] Reid currently runs the Forbes recommended mastermind Secret Knock.[6]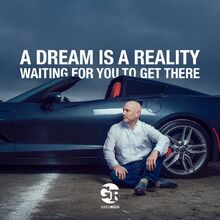 Besides being a filmmaker, motivational speaker, and author, Reid is also an entrepreneur, and is part of several successful corporations.[7]
Reid is the founder and former CEO of Work$mart, which is an innovative advertising firm. He sold the company in 2004 and is currently the CEO of two corporations in San Diego, The Millionaire Mentor and The Secret of Happiness, LLC. Reid has also been featured on programs across the country, through television and radio broadcasts across America.
Reid currently runs the internationally acclaimed mastermind conference, Secret Knock, an exclusive gathering of the most powerful and influential leaders of our generation. Past attendees include ChuckECheese Creator Gene Landrum, Credit Card stripe inventor Ron Klein, and Make A Wish Founder Frank Shankwitz[8]
His latest film Wish Man was released 2019 in Theaters Nationwide.
In 2019, Reid was granted a Star in front of the Paris Hotel in Las Vegas for his contribution to the literary field.
Personal life
Edit
Reid was once married to Allyn Reid. They have one child together and currently live in San Diego, California.[4]
References
Edit
10.
http://sdvoyager.com/interview/meet-greg-s-reid-secret-knock-carlsbad/
11. https://www.businessinsider.com/greg-reid-worlds-wealthiest-people-brilliant-tricks-2019-5
12. https://www.inc.com/wanda-thibodeaux/6-surprising-pieces-of-advice-from-worlds-most-elusive-billionaires.html
Community content is available under
CC-BY-SA
unless otherwise noted.